So I shook to the stizzy for a minute and returned this 4 gigs of memory, because it was over capacity for my computer (I was trying to stuff it with 8 gigs and I couldn't...
sucks
). Got my money and went to best buy and was going to buy some over priced ipod that I
know I didn't need
, but somehow I convinced myself that I didn't need it and I picked up this 4 gig deally that I am actually impressed with: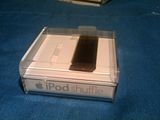 It was 80 bucks and its so small. It's cool for me so when I am around, I can listen to different stuff that is going on in the world. I don't really ever listen to music...ima test it out and see how it goes.
Ill probably keep it on the randomized setting so I can check out these cd's I have been scooping up...oh yea...I've been getting a lot of cd's I'm grinding real heavy right now, just trying to open my mind about different variations of stuff...I'm interested in music from other regions, might as well see what is going on out there! Check it out!:
So I'm doin the damn thing! I hope you are too! Hit me up on
twitter
!
-I'm Out!