Yo wuddap. I'm over here hecka tired and all that. Blogging because I said I was going to try and stick with it :). Anyway, today was cool, talked to the folks (folks being beatman and docsavage). We were trying to update each other with what we have been up to and everything. I got a call today that a track I did
made the cut
, and apparently that is a very good thing. So I had to track the file out and send it over to Detroit. I was kinda paranoid because the
crap would not render!
I was trying to call both of them and no friggin body would pick up their phones. I was
so
frustrated, and then it was the most simple thing I had to do. Sometimes rendering tracks is so time consuming...because it takes time to upload. I mean the file I sent out was over 200mb and I compressed it to 80mb, and it still took 45 minutes to upload.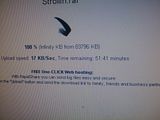 I'm supposed to hear back from that situation pretty soon. Let's see what happens! (But damn...I was so frustrated, I almost walked out of the room...lawd have mercy!)
I'm gonna go pick up some stuff from the store, I'm sure ill have an update for ya.
Hit me up on
twitter
!
-Eeeez!